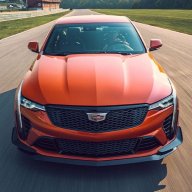 Administrator
Staff member
Joined

Nov 3, 2011
Messages

3,893
Location
V-Series Cadillac(s)?

Not Yet!
No XTS Performance Model Planned, But Bigger Cadillac Being Eyed
2012 Chicago Auto Show
Jim Mateja, WardsAuto
Feb. 10, 2012 10:20am
CHICAGO – Cadillac's new flagship, the fullsize XTS sedan, is powered by a 3.6L 300-hp V-6, with no new V-8 in the works, but there may be a larger model planned.
"We can add a turbo to the V-6, and as we move forward with the XTS there will be what we'll call power enhancements," says Don Butler, vice president-marketing for Cadillac during an interview at the auto show here.
But there is no XTS-V super potent version. "(The) CTS and ATS are performance vehicles," he says. "The XTS isn't a performance vehicle, so 'no' to a V version."
Full Story:
No XTS Performance Model Planned, But Bigger Cadillac Being Eyed | Vehicles & Technology content from WardsAuto