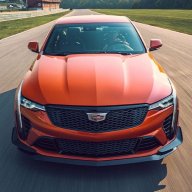 Administrator
Staff member
Joined

Nov 3, 2011
Messages

3,809
Location
V-Series Cadillac(s)?

Not Yet!
GM Press Release: Cadillac Adds Streaming Video to Enhance Driver Vision and Safety
Display eliminates visual obstructions, increases rearward vision by 300 percent
2014-12-18

DETROIT
– Cadillac late next year will add high-resolution streaming video to the function of a traditional rearview mirror, removing obstructions of passengers, headrests and the vehicle's roof and rear pillars.
The streaming video mirror improves field of vision by an estimated 300 percent, or roughly four times greater than a standard rearview mirror.
"The closest comparison to this kind of rear vision would be driving a convertible with the top down," said Travis Hester, Cadillac CT6 executive chief engineer.
"In addition to the increased field of view, the technology eliminates any rear seat, rear pillar or passenger obstructions, allowing the driver an unimpeded view of the lanes behind and traditional blind-spots," Hester said.
Full Story:
Cadillac Adds Streaming Video to Enhance Driver Vision and Safety | Cadillac V-Net