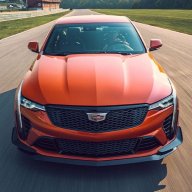 Administrator
Staff member
Joined

Nov 3, 2011
Messages

3,893
Location
V-Series Cadillac(s)?

Not Yet!
GM Investing $200 Million to Expand Powertrain Engineering
Consolidation of four locations will help speed advanced propulsion development

2013-01-30
PONTIAC, Mich. –
General Motors will invest $200 million into its Global Powertrain Engineering Headquarters to build a new 138,000 sq.-ft. test wing, which is expected to be completed during the second half of 2014.
The plan is part of GM's previously announced commitment to invest $1.5 billion in its North American facilities in 2013.
The expansion will enable the company to consolidate work being done at four locations remote to the Pontiac campus, helping to reduce development timing for GM's next-generation advanced propulsion technologies. When the moves are complete, GM will have added approximately 400 jobs to the Pontiac campus.
Under the expansion plan, engineering development work currently being done at leased facilities in Wixom, Mich.; Castleton, Ind. and Torrance, Calif., will move to Pontiac. Also, GM R&D's Propulsion Systems Research lab in Warren, Mich. will relocate to the Pontiac campus. GM previously announced that work being performed at its hydrogen fuel cell facility in Honeoye Falls, N.Y., would be consolidated in Pontiac in mid-2013.
"These moves will help our entire Powertrain team work more effectively across the organization to develop the powertrain technologies we need to build the world's best vehicles for our customers around the world," said Sam Winegarden, GM vice president of Global Engine Engineering.
In addition, the Performance Build Center, currently located at the Wixom facility, will move to
GM's Chevrolet Corvette assembly plant in Bowling Green, Ky.,
by the first quarter of 2014.
The new test wing is part of GM's Powertrain Development Center, used by engineers to bring advanced, fuel-saving powertrains to market faster and less expensively because they take less development time. The 450,000 sq.-ft. facility is one of the largest and most technically advanced powertrain development centers in the world.
The center's state-of-the-art facilities allow engineers to test engines under extreme conditions, including cold ambient temperatures, high RPMs, and repetitive starting and stopping, to assure world-class durability, reliability and quality.
The work GM conducts at its Wixom Advanced Engineering Lab, including electric motor engineering development and performance engineering, will be transferred to Pontiac by mid-2015. Electric motor design and production is a core business for GM in the development and manufacture of
electric vehicles
.
The Torrance Advanced Technology Center's work on electric motor and power electronics engineering development will be transferred to Pontiac by the end of 2014. GM considers these technologies key to the future of sustainable transportation.
Heavy-duty transmission, power electronics, hybrid and battery electric drive unit development work done at Castleton will be transferred to Pontiac by mid-2014. GM's work on heavy-duty transmissions is core to its pickup truck development.
And GM R&D's Propulsion Systems Research Lab will be relocated to Pontiac during the second half of 2015. This work is critical to providing industry-leading technologies for GM's engines, transmissions, and hybrid systems.
Having completed a consolidation of seven southeastern Michigan Powertrain Engineering facilities in 2008, this wave of Powertrain Engineering consolidation will allow GM to cut 640,000 square feet of floor space and eliminate three leased facilities in the United States.
General Motors Co.
(NYSE:GM, TSX: GMM) and its partners produce vehicles in 30 countries, and the company has leadership positions in the world's largest and fastest-growing automotive markets. GM's brands include Chevrolet and Cadillac, as well as Baojun, Buick, GMC, Holden, Isuzu, Jiefang, Opel, Vauxhall and
Wuling
. More information on the company and its subsidiaries, including OnStar, a global leader in vehicle safety, security and information services, can be found at
General Motors | GM.com
.