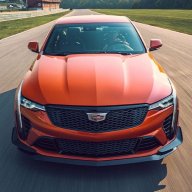 Administrator
Staff member
Joined

Nov 3, 2011
Messages

3,810
Location
V-Series Cadillac(s)?

Not Yet!
GM cuts price on most Cadillac CTS sedans amid weak demand
Wednesday, January 07, 2015 4:17 p.m. EST
DETROIT (Reuters)
- General Motors Co's luxury Cadillac brand has cut the price most customers will pay for its 2015 CTS to counter slumping demand in the United States for the marquee sedan.
The largest U.S. automaker told Cadillac dealers on Wednesday that it was cutting the price of the three best-selling packages of options on the car by as much as $3,000, a spokesman confirmed.
"After Cadillac launched the entry-level ATS, it got too aggressive on moving the price up of the redesigned CTS – and too optimistic about the sales volume at that price." AutoTrader.com senior analyst Michelle Krebs said. "Despite the CTS being a solid vehicle, the Cadillac brand still does not have the cachet to charge such high premiums yet."
The base price of the 2015 model remains unchanged at $46,340, but the price for the luxury, performance and premium packages was reduced by $1,000 to $3,000, Cadillac spokesman David Caldwell said. The cuts affect the "vast majority" of the CTS sedans sold, he said.
The cars affected sell in the range of the low-$50,000 range to the low-$60,000 range, Caldwell said.
CTS sales fell almost 18 percent in December and were off 3.8 percent all of last year in a rising luxury market. GM's inventory of CTS cars as of December 2014 was 102 days supply according to Ward's.
Cadillac chief Johan de Nysschen had previously said the brand would not cut base prices, but left the door open to repackaging options so that buyers would pay a lower price overall. Luxury car brands are reluctant to cut sticker prices because that could hurt the image of the brand and the value of vehicles already on the road.
Cadillac was the only major luxury brand that lost sales in the U.S. market in 2014, when it sold 6.5 percent fewer cars than the year before. Volkswagen's Audi luxury brand overtook Cadillac last year, knocking the GM brand to 5th in the U.S. market.