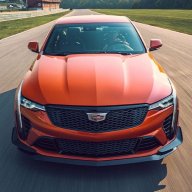 Administrator
Staff member
Joined

Nov 3, 2011
Messages

3,893
Location
V-Series Cadillac(s)?

Not Yet!
GM Builds 100-Millionth Small-Block Engine
Milestone LS9 assembly at Performance Build Center comes 56 years after introduction
2011-11-29
WIXOM, Mich.
– General Motors today will build its 100-millionth small-block engine – 56 years after the first production small block – representing an engineering legacy that continues to deliver greater performance and efficiency through advanced technology.
Chevrolet introduced the small-block in 1955 and the production milestone comes in the same month the brand marked its 100th anniversary. The small-block engine has been used in GM vehicles around the world and is currently found in global Chevrolet, GMC and Cadillac vehicles, as well as Vauxhall in the United Kingdom and Holden in Australia.
"The small block is the engine that brought high-performance to the people," said David Cole, founder and emeritus chairman of Center for Automotive Research – and whose father, the late Ed Cole, was the chief engineer at Chevrolet and oversaw development of the original small block engine. "There is an elegant simplicity in its design that made it instantly great when new and enables it to thrive almost six decades later."
The milestone engine is a 638-horsepower supercharged LS9 small block – the power behind the 205-mph Corvette ZR1 – which is hand-built at GM's Performance Build Center, northwest of Detroit. It represents the fourth generation of the small block and is the most powerful engine ever built by GM for a regular-production car. GM will preserve the engine as part of its historical collection.
The small block has been adapted in almost innumerable ways throughout the auto industry and beyond. Updated versions of the original Gen I engine are still in production for marine and industrial applications, while "crate engine" versions offered by Chevrolet Performance are used by thousands of enthusiasts every year to build hot rods. The 4.3L V-6 used in some Chevrolet and GMC full-size trucks and vans is based on the small-block, too, but with two fewer cylinders. All of these versions contribute to the small block's 100-million production milestone.
"This tremendous achievement celebrates an engineering triumph that has reached around the globe and created an industrial icon," said Sam Winegarden, executive director and group global functional leader - Engine Engineering. "And while the small-block's enduring design has proven adaptable to meet performance, emissions and refinement challenges over the years, it has more importantly delivered them with greater efficiency."
Current small blocks engines feature all-aluminum cylinder block and heads in car and many truck applications to help save weight and contribute to greater fuel economy. Many applications feature fuel-saving technologies such as Active Fuel Management – which shuts down four cylinders in certain light-load driving conditions – and camshaft phasing, which continuously alters valve timing to optimize performance, efficiency and emissions.
The 430-horsepower (476 kW) LS3 version of the Gen-IV small-block helps the 2012 Corvette accelerate from 0 to 60 mph in about four seconds, run the quarter-mile in just over 12 seconds and achieve a top speed of more than 180 mph – all while achieving EPA-estimated highway fuel economy of 26 mpg. That compares favorably against many sports and performance cars:
The 2012 Audi R8 is EPA-rated at 21 mpg on the highway with a V-8 engine
The 2012 BMW 650i coupe is EPA-rated at 23 mpg on the highway with a V-8 engine
The 2012 Nissan GT-R is EP-rated at 23 mpg on the highway with a turbo V-6 engine.
It also compares favorably against many vehicles known more for soccer practice drop-offs – and fuel economy – than quick lap times on a road course:
The 2012 Toyota Sienna minivan is EPA-rated at 24 mpg with a four-cylinder engine
The 2012 Subaru Legacy sedan is EPA-rated at 25 mpg with a flat-6 engine
The 2012 Nissan Maxima sedan is EPA-rated at 26 mpg with a V-6 engine.
"The small-block engine delivers guilt-free performance," said Winegarden. "It is the quintessential V-8 engine and a living legend that is more relevant than ever."
GM also announced Tuesday that the fifth-generation small-block under development will feature a new direct-injection combustion system that will help enhance efficiency over the current-generation engine.
"The small-block architecture has continued to prove its relevance in a fast-evolving industry and the fifth-generation engine will build on the performance legacy with a significant advance in efficiency," said Winegarden.
GM is investing more than $1 billion in manufacturing facilities associated with producing new small-block engines, resulting in 1,711 jobs that have been created or retained. The Gen V engine is expected in the near future and is guaranteed to have 4.4-inch bore centers – the center-to-center distance between cylinders that has been part of the small-block's architecture from the beginning.
In the beginning
GM didn't invent the V-8 engine, but interpreted it in a way that made performance accessible to millions of new customers. It got its start in the years following World War II, after Chief Engineer Ed Cole transferred to Chevrolet from Cadillac, where he oversaw the development of its premium V-8 engine.
Cole's team retained the basic overhead valve design that was a staple of Chevrolet's inline-six engine – affectionately called the Stovebolt. It was seen as one of the Chevrolet car line's selling points, reinforcing a message of simplicity and reliability. Cole challenged his engineers to tighten the new engine package to make it more compact, less costly and easier to manufacture.
Upon its debut in the 1955 Chevy lineup, the new V-8 engine was physically smaller, 50 pounds lighter and more powerful than the Stovebolt six. It was not only a better engine for Chevrolet cars, it represented a better way of building engines, with a minimalist design that took advantage of streamlined production techniques.
After only two years on the market, the small-block began a steady march upward in displacement, power and technological advancement. In 1957, a version equipped with mechanical fuel injection was introduced, dubbed Ramjet. The only other high-volume manufacturer to offer fuel injection at the time was Mercedes-Benz.
Mechanical fuel injection was discontinued in the mid-Sixties, but the small-block debuted electronically controlled fuel injection in the 1980s and established a benchmark with the 1985 launch of Tuned Port Injection. This electronically controlled port fuel injection system was advanced in its day and its basic design is still used on most passenger cars and light-duty trucks more than 25 years later.
The small-block's 4.4-inch bore centers – the distance from the center of one cylinder to the next – would come to symbolize the compact, balanced performance of the small-block. It was the dimension around which the Gen III small-block was designed in 1997. In 2011, the small-block is in its fourth generation, powering Chevrolet's full-size trucks, SUVs and vans, midsize trucks and the Camaro and Corvette performance cars.
The first 4.3L (265 cu. in.) engine in 1955 produced up to 195 hp with an optional four-barrel carburetor. Today, the LS9 6.2L (376 cu. in.) supercharged small-block in the Corvette ZR1 is rated at 638 hp (476 kW), making it the most powerful engine ever installed in a regular-production Chevrolet or GM vehicle.
General Motors Co. (NYSE:GM, TSX: GMM) and its partners produce vehicles in 30 countries, and the company has leadership positions in the world's largest and fastest-growing automotive markets. GM's brands include Chevrolet and Cadillac, as well as Baojun, Buick, GMC, Holden, Isuzu, Jiefang, Opel, Vauxhall and Wuling. More information on the company and its subsidiaries, including OnStar, a global leader in vehicle safety, security and information services, can be found at
General Motors | GM.com
.
# # #