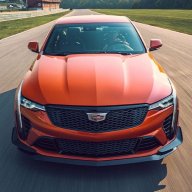 Administrator
Staff member
Joined

Nov 3, 2011
Messages

3,867
Location
V-Series Cadillac(s)?

Not Yet!
I wanted to start a thread about this as I'm just realizing this may become an issue with some people's Blackwing orders as I'm not entirely clear how Cadillac is handling the orders when they're input at the dealer level.
In this thread:
So, I just decided to check on the orders that are at 0500 and 1100 to see if there was any movement. @jwolf99 your order moved to 3000 with no TPW yet. However, something strange I also noticed that I've never seen happen before. Orders that were at 3400 moved back to 3000, but the TPWs...
www.cadillacvnet.com
Cadillac reached out to
@Mike zulu18
to clarify a discrepancy with his order that was flagged.
I first learned of a related issue with C8 Corvette orders and I'm not sure if this situation is related to the same issue some C8 Corvette orders saw.
When a dealer enters an order in GM's Global Connect system, upon submission the dealer can print the order out showing the order number. On the printout, the name or address might be incorrect.
If at any time, you ordered another GM vehicle be it Chevrolet, Cadillac, Buick or GMC, and then you moved at some point after placing that order - when you go to place a new GM car order, even though the dealer enters your current mailing address, the printout will show the previous address you lived at.
This is a bug in GM's Global Connect system and I can assure you they are well aware of it after dealing with two years of C8 Corvette orders. Last I heard, GM was working on a fix, but I haven't heard anything since.
Rest assured, this will not slow your order down or screw up the final paperwork that you have to sign upon taking delivery of your Blackwing. The dealership will have your current address and contact information and all of that information will populate across all of your dealership paperwork as well as title, financing documentation etc.
Now, I can't speak first hand about
@Mike zulu18
's situation with another person with the same name in another city. I don't know what the triggers are in GM's system to populate order documentation.
I'm merely mentioning this here as an FYI as I can see this being a potential source of confusion with customers as it has been for customers ordering C8 Corvettes.
My suggestion is that if you notice an issue with your name or address on contact information on your order sheet - let your dealer know and have them notify their District Sales Manager. The issue needs to be escalated so that GM finally fixes the problem in their Global Connect System if they haven't already done so.