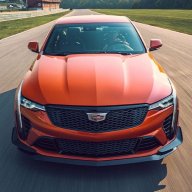 Administrator
Staff member
Joined

Nov 3, 2011
Messages

3,893
Location
V-Series Cadillac(s)?

Not Yet!
First Test: 2014 Cadillac CTS Vsport
Might this V signal another V-E Day?
By Frank Markus
Motor Trend Magazine
As Cadillac continues to build its autobahn arsenal with the larger, leaner CTS, the highly anticipated Vsport model deploys twin-turbo V-6 performance in the war against the Mercedes E550 and BMW 550i twin-turbo V-8s. We've been promised a new AMG/M-fighting CTS-V is in the works, but for now the CTS-V continues on the old architecture, along with all coupes and wagons. The new Vsport model will also wear a simple V on its rump, but will be devoid of the Big V's flag graphics (not to mention its hey-look-at-me air intakes, flares, and so forth). Nobody will mind if you confuse the two, which are currently separated by $5830. Watching and listening to a Vsport hustle away from a dead stop will heighten the confusion.
But wait, doesn't Caddy risk bringing a V-6 knife to a twin-turbo-V-8 RPG fight? Maybe not. This state-of-the-art, direct-injected twin-turbo trumps Benz and BMW on power with 420 horses to their respective 402 and 400, though torque lags slightly at 430 versus 443 and 450. Then again, Cadillac's painstaking weight-reduction efforts mean each of its horses is saddled with just 9.5 pounds, where BMW's and Mercedes' equines lug 10.9 or more pounds each; and new shortcut intercooler plumbing pretty much eliminates turbo lag. Cadillac invited us to its Milford Proving Ground one bright sunny summer afternoon to determine exactly how it stacks up against the competition.
I was coached to dial up the driver-selectable Sport mode, switch off the traction control, hold the brake just long enough to build about 2000 rpm of brake torque, let go, and hang on. My first runs were looking like 4.8 seconds to 60 mph. That fell shy of the 4.4 seconds chief engineer Dave Leone claimed his team had measured, so I was further coached in the fine art of cooling this engine down after a run. Rather than coasting in neutral as usual, the recommendation was to maintain 70-80 mph in a gear that would put 1-2 pounds of boost through the turbos and intercoolers, hence keeping that circuit active and cooling. Hmmm. Make heat in order to cool down? Okay. The engine controller was shifting at around 6000 rpm, so I tried manually shifting at nearer the 6500-rpm redline, but that didn't help and often resulted in a time-consuming over-rev. I also tried launching at different engine speeds.
Full Story:
2014 Cadillac CTS Vsport First Test - Motor Trend