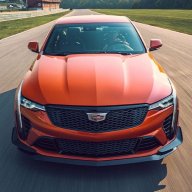 Administrator
Staff member
Joined

Nov 3, 2011
Messages

3,893
Location
V-Series Cadillac(s)?

Not Yet!
First 2014 CTS Vsport Delivered
Sale proceeds going to SAE Foundation STEM Education
2013-12-19
GM Media
This file photo of the 2014 Cadillac CTS Vsport is representative of the first production model sold at auction in August 2013
for $120,000. All proceeds benefit the SAE Foundation's support of science, technology, engineering and math, or STEM, education programs.

BOULDER, Colo. –
The first Cadillac CTS Vsport produced was delivered today to the high bidder in an auction to benefit the SAE Foundation's support of science, technology, engineering, and math, or STEM, education programs.
Tim and Pat Whited of Nederland, Colo., took delivery of the new twin turbocharged sedan at McCaddon Cadillac in Boulder. They purchased the car August 9 at Barrett-Jackson's Hot Nights Car Auction in Reno, Nev. All proceeds of the $120,000 sale went to the SAE Foundation.
The Whiteds also received a performance driving school package as part of their winning bid.
"The choice to purchase the vehicle was a combination of this being a great opportunity to support the SAE Foundation and a great opportunity to obtain the first 2014 CTS," said Tim Whited. "We saw the SAE Foundation/Cadillac display at Reno, then listened to the great presentation… on the auction block. At that point, Pat and I looked at each other and decided to participate in the bidding - the rest is history."
The rear-wheel-drive CTS Vsport is equipped with the all-new 420-hp 3.6-liter Cadillac Twin-Turbo V-6 engine and is the first Cadillac to receive the brand's eight-speed automatic. The 2014 CTS Vsport – a new performance model positioned above the standard car but beneath the brand's ultra-high performance V-Series cars – began production earlier this month. The new 2014 CTS was recently named Motor Trend Car of the Year, and was selected by Car and Driver magazine for its annual 10Best list.
Cadillac and General Motors have long sponsored the SAE Foundation's STEM outreach programs, which includes $350,000 of support from the GM Foundation in 2013. GM also provides more than 1,500 mentors and volunteers who help reach nearly 85,000 students participating in SAE's World in Motion K-12 programs.
"We are extremely grateful to Cadillac, the outstanding team at Barrett-Jackson, Mr. and Mrs. Whited, and McCaddon Cadillac of Boulder for their incredible generosity and commitment to STEM education in the US," said Lori Gatmaitan, director of the SAE Foundation. "Collectively, they are helping to deliver quality STEM programming in the classroom and helping to ensure the next generation of professionals has the skills and education necessary to compete on a global basis."
About Cadillac
Cadillac has been a leading luxury auto brand since 1902. Today Cadillac is growing globally, driven by an expanding product portfolio featuring dramatic design and technology. More information on Cadillac appears at
www.cadillac.com
. Cadillac's media website with information, images and video can be found at media.cadillac.com.
# # #​
The SAE Foundation is the charitable arm of SAE International that encourages, inspires and increases student participation and achievement in science, technology, engineering and math through educational programs, including A World In Motion® and the Collegiate Design Series™. SAE International is a global association committed to being the ultimate knowledge source for the engineering profession. By uniting over 138,000 engineers and technical experts, we drive knowledge and expertise across a broad spectrum of industries. We act on two priorities: encouraging a lifetime of learning for mobility engineering professionals and setting the standards for industry engineering.