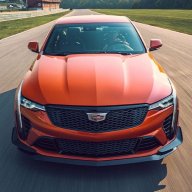 Administrator
Staff member
Joined

Nov 3, 2011
Messages

3,866
Location
V-Series Cadillac(s)?

Not Yet!
CTS-V: Cadillac's 'Lord of the Ring'
Sports car offers more torque and power than Mercedes-Benz CLS-Class, BMW 5 GT or Audi A8
By Alan McPhee, The Daily News June 21, 2012
The 'Ring' is, of course, the famous Nurburgring racing circuit in the heart of the Eifel Mountains in Southern Germany. Opened in 1927, the 22.8 km circuit with 73 corners, weaves its way around the ancient Nurburg Castle in what many believe to be the greatest challenge ever for car and driver. No longer considered safe for modern Formula 1 racers, it has become a proving ground for vehicle development and it was here, in 2009, that the Cadillac CTS-V set a new record for production sedans with a lap time of 7 minutes, 59.32 seconds. This puts the CTS head-to-head with the best that Europe has to offer. In fact, with its 556-horsepower, 6.2-litre Supercharged V8, it offers more power and torque than Mercedes-Benz CLS-Class, BMW 5 GT or Audi A8. Clearly, Cadillac has come a very long way from the chrome-laden luxo-barges of the sixties and seventies.
Full Article:
CTS-V: Cadillac's 'Lord of the Ring'