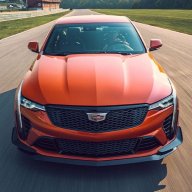 Administrator
Staff member
Joined

Nov 3, 2011
Messages

3,871
Location
V-Series Cadillac(s)?

Not Yet!
Cadillac to Introduce Advanced 'Intelligent and Connected' Vehicle Technologies on Select 2017 Models
Super Cruise and V2V technologies slated for production in about two years
2014-09-08
A 2015 Cadillac CTS, equipped with V2V technology, notifies the driver of the approaching
Cadillac SRX from the left before the driver could see the vehicle.
DETROIT
– Cadillac will begin offering advanced "intelligent and connected" vehicle technologies on certain 2017 model year vehicles, General Motors CEO Mary Barra said Sunday during her keynote address at the Intelligent Transport System (ITS) World Congress in Detroit.
In about two years, an all-new 2017 Cadillac vehicle will offer customers an advanced driver assist technology called Super Cruise and in the same timeframe the 2017 Cadillac CTS will be enabled with vehicle-to-vehicle (V2V) communication technology.
"A tide of innovation has invigorated the global auto industry, and we are taking these giant leaps forward to remain a leader of new technology," Barra said. "We are not doing this for the sake of the technology itself. We're doing it because it's what customers around the world want. Through technology and innovation, we will make driving safer."
Super Cruise, the working name for GM's automated driving technology, will offer customers a new type of driving experience that includes hands-off lane following, braking and speed control in certain highway driving conditions. The system is designed to increase the comfort of an attentive driver on freeways, both in bumper-to-bumper traffic and on long road trips.
V2V communication technology could mitigate many traffic collisions and improve traffic congestion by sending and receiving basic safety information such as location, speed and direction of travel between vehicles that are approaching each other. It will warn drivers and can supplement active safety features, such as forward collision warning, already available on many production cars.
As the world becomes more congested and new populations need access to personal mobility, accidents continue to be a global concern. A recent National Highway Traffic Safety Administration study estimated that the economic and societal impact of motor vehicle crashes in the United States is more than $870 billion per year.
"Advancing technology so that people can more safely live their lives is a responsibility we embrace," Barra said.

About Cadillac in Canada
Cadillac has been a leading luxury auto brand since 1902. In recent years, Cadillac has engineered a historic renaissance led by artful engineering and advanced technology. More information on Cadillac can be found at
www.cadillac.ca
.

About General Motors in Canada
Headquartered in Oshawa, Ontario, General Motors of Canada Limited (GMCL) employs more than 9,000 people across the country and is a recognized leader in green manufacturing. GMCL markets the full range of fuel-efficient Chevrolet, Buick, GMC and Cadillac vehicles and related services through Canada's largest automotive dealer network. More information regarding GMCL models can be found at
www.gm.ca
, or by following @GMCanada on Twitter.
###