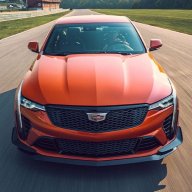 Administrator
Staff member
Joined

Nov 3, 2011
Messages

3,866
Location
V-Series Cadillac(s)?

Not Yet!
Cadillac to give ATS breathing room by trimming CTS output
November 21, 2012 - 1:38 pm ET
MIKE COLIAS
DETROIT -- We've heard a lot about how Cadillac's new ATS compact sedan was built to lure buyers away from the BMW 3 series and other German luxury juggernauts.
That might yet happen. But, at least early on, the ATS is poaching buyers from its older and larger sibling in the Cadillac lineup: the CTS.
CTS sales have nosedived in the wake of the September launch of the new ATS, sinking 40 percent in October from a year earlier.
Full Story:
Cadillac to give ATS breathing room by trimming CTS output