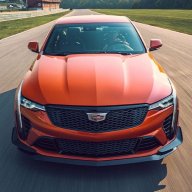 Administrator
Staff member
Joined

Nov 3, 2011
Messages

3,867
Location
V-Series Cadillac(s)?

Not Yet!
Cadillac Sales Gains Set Stage for 2012 Expansion
2012-01-05
December was best retail sales month since March 2008
Retail sales up 10.5 percent for 2011; CTS up 24 percent; SRX up 13 percent
Maintains share despite phase out of two models
DETROIT –
Cadillac completed 2011 with total U.S. sales up 4 percent from the year earlier and its best retail sales month in nearly four years, boosting momentum for the brand's major expansion in 2012.
The year concluded with Cadillac registering its best month of retail sales since March of 2008. Strong demand drove a 10.5 percent increase in retail sales for 2011, as Cadillac continued its reduced emphasis on fleet sales.
The brand's centerpiece CTS product line saw retail sales increase 24 percent over last year, buoyed in part by sales gains of the
CTS Coupe
, which is the segment's best-selling midsize luxury coupe, outpacing European competitors.
Cadillac's SRX
luxury crossover model, featuring a new standard 3.6L V-6 engine for 2012 models, gained 13 percent in retail sales for the year. December was also the best month ever for the SRX, selling 7,324 units.
Escalade
, which also had its best retail and total sales month since of 2011 and retains its top U.S. sales spot in the full-size luxury SUV category.
Despite phasing out two models in preparation for the upcoming
2013 XTS
, Cadillac completed 2011 with 10.2 percent share of the market, practically unchanged from the previous year.
"Clearly the data shows luxury consumers were feeling more confident in December and we're very pleased with our growth and market position, especially heading into 2012, when we will see new products in new segments," said Kurt McNeil, Cadillac vice president of Sales and Service. "We expect growth to continue in the luxury market in 2012."
The 2013
Cadillac XTS
is a technology-packed luxury sedan that goes into production in late spring. The 2013 ATS, an all-new compact luxury sedan, will be unveiled on Sunday (Jan. 8) before the North American International Auto Show in Detroit. The two new Cadillacs will bookend the already popular mid-size CTS cars.
Also in 2011, Cadillac continued its Defining Moments program co-developed with the Ritz-Carlton Institute. The program targets excellence in Cadillac's customer experience through a series of training programs and the redesign of many of the brand's dealerships. The result has been steady increases in consumer and industry satisfaction surveys with Cadillac top among U.S. brands in customer satisfaction and more than doubling scores in dealer satisfaction surveys since 2009.
"We take the health and viability of our dealer network very seriously, and we've instituted a number of new initiatives to help our dealers build a more successful business, and to reinvent the customer experience" McNeil said.