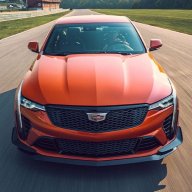 Administrator
Staff member
Joined

Nov 3, 2011
Messages

2,671
Location
V-Series Cadillac(s)?

Not Yet!
Sebring, Fla., March 16, 2019

Whelen Engineering Cadillac Wins Sebring – Cadillac Sweep
Konica Minolta Cadillac second, Mustang Sampling Cadillac third
The Whelen Engineering Cadillac DPi-V.R won the Mobil 1 Twelve Hours of Sebring today. The Konica Minolta Cadillac DPi-V.R and Mustang Sampling Cadillac DPi-V.R completed an all Cadillac sweep of the Sebring podium.
The win gives the Cadillac brand two wins in as many races backing up the season opening victory by the Konica Minolta Cadillac team at the Rolex 24 Hour At Daytona.

Full Story on the Cadillac V-Net's Home Page >>>