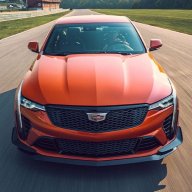 Administrator
Staff member
Joined

Nov 3, 2011
Messages

3,867
Location
V-Series Cadillac(s)?

Not Yet!
Cadillac faces marketing dilemma

By Mark Phelan
Detroit Free Press Auto Critic
The best car in Cadillac's recent history may be facing its worst couple of years, as the luxury brand adds new models that could squeeze the CTS from above and below.
"It's a challenge," said analyst Rebecca Lindland of IHS Automotive. "The CTS was the sexy newcomer a couple of years ago. It was the darling of the Cadillac showroom. Suddenly it's the middle sister, easy to overlook."
The CTS sport sedan, now in its second generation, put Cadillac back on the map. A succession of second-rate cars in the 1980s and '90s had made General Motors' luxury brand a joke.
The CTS changed that, matching the style, technology and performance of cars like the BMW 3-series and Mercedes-Benz E-class. It returned Cadillac to the front ranks of global luxury brands. A CTS coupe and station wagon followed, and the CTS became a family of models at the heart of Cadillac's lineup.
Full Story:
Cadillac faces marketing dilemma | Auto news | Detroit Free Press | freep.com