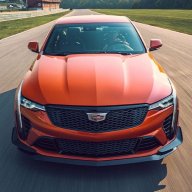 Administrator
Staff member
Joined

Nov 3, 2011
Messages

3,893
Location
V-Series Cadillac(s)?

Not Yet!
Cadillac Crest Evolves to Reflect Brand Growth
Change follows brand's product-driven renaissance
2014-01-14
The Cadillac Crest. Longer, lower, leaner. Ongoing evolution of Art + Science Begins to appear in production second half of 2014
DETROIT –
Cadillac is introducing an evolution of the historic Cadillac Crest, a revision in synch with new products such as the award-winning 2014 CTS and 2015 ATS Coupe. The new Cadillac Crest will begin appearing on vehicles in the second half of 2014.
The unmistakable Cadillac Crest has a heritage of evolution, marking new eras. Cadillac's product and design advances are moving the brand forward. The Cadillac Crest evolves now to reflect this growth, just as it has for more than 111 years.
Sleeker and streamlined, the revised Crest first appeared on the Elmiraj concept in 2013.
"The Crest remains a consistent symbol of Cadillac and our core values," said Andrew Smith, Cadillac executive design director. "This new Crest matches the lower, longer, leaner mantra of our current car designs, and reflects the evolution of our Art and Science philosophy."
Accompanied over the years by a crown, chevron or laurel wreath, the Crest has been the central aspect of Cadillac heraldry throughout the brand's history. It was last revised in 1999.
The latest update sharpens the focus on the Crest. Cadillac's characteristic script lettering remains.
"Our goal was to evolve the emblem design to integrate with the new vehicle form while maintaining the core graphic elements that preserve its strong brand recognition," Smith said. "This resulted in retaining the iconic 'crest' shape and color palette with geometric grid from the original Cadillac family 'coat of arms.'"
The update to the Crest occurs amid significant growth for the brand. Cadillac is the fastest-growing full-line luxury auto brand, building on a 22-percent sales increase in the U.S. in 2013.
This month marks the U.S. debut of the ELR, an electrified luxury coupe featuring 340 miles of driving range. Later in 2014, Cadillac will launch the next-generation Escalade luxury SUV and the 2015 ATS Coupe.
About Cadillac
Cadillac has been a leading luxury auto brand since 1902. Today Cadillac is growing globally, driven by an expanding product portfolio featuring dramatic design and technology. More information on Cadillac appears at
www.cadillac.com
. Cadillac's media website with information, images and video can be found at
media.cadillac.com
.
# # #​
Cadillac's unmistakable symbol has a tradition of evolution. 38 variations in total, tracing to these six landmark designs.