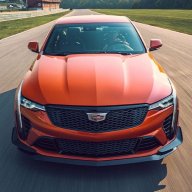 Administrator
Staff member
Joined

Nov 3, 2011
Messages

3,891
Location
V-Series Cadillac(s)?

Not Yet!
Cadillac confirms ATS-V sedan will debut at 2014 L.A. Auto Show
By David Undercoffler
Los Angeles Times
Cadillac will use this year's L.A. Auto Show to reveal the aggressive version of its ATS sedan.
The luxury division of General Motors has confirmed that its high-performance ATS-V will make its world debut at the November auto show. When it does, the all-new model from Cadillac will be aimed squarely at the leader of the compact sedan segment, the venerable BMW M3.
Just what will power the ATS-V is still unknown, though it's expected that Cadillac will use the engine from the larger CTS V-Sport sedan. That twin-turbocharged, 3.6-liter V-6 makes 420 horsepower and 430 pound-feet of torque.
Those horsepower and torque figures would put the ATS-V on equal footing with BMW's M3, which has 425 horsepower and 406 pound-feet of torque.
Full Story:
Cadillac confirms ATS-V sedan will debut at 2014 L.A. Auto Show - LA Times