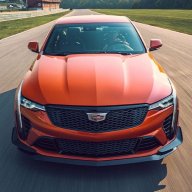 Administrator
Staff member
Joined

Nov 3, 2011
Messages

3,871
Location
V-Series Cadillac(s)?

Not Yet!
Cadillac chief reveals plans for ATS variants including a convertible and a wagon
By Peter Braun — January 15, 2014
Digital Trends
Cadillac is going all in on its BMW fighting ATS. We were already treated to the new ATS Coupe at the Detroit Auto Show this week, but Cadillac chief Bob Ferguson says that Cadillac is just getting started.
In an interview with Automotive News, Ferguson said that Cadillac plans on branching out and producing more versions of the ATS, including potentially a convertible and a wagon.
Apparently a wagon was planned right from the start of the ATS development cycle, but GM wanted to wait and see how the launch of the ATS sedan did before it committed itself to production.
Following the warm reception of the ATS, particularly in regards to its sporty handling and modern and powerful engine options, Cadillac now wants to make the most of what it has. Ferguson said explained, "You've made the investment. You've built a brand within a brand, if you have a winner you should exploit that."
Full Story:
http://www.digitaltrends.com/cars/c...oh-cadillac-chief-reveals-plans-ats-variants/