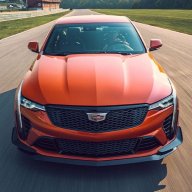 Administrator
Staff member
Joined

Nov 3, 2011
Messages

3,866
Location
V-Series Cadillac(s)?

Not Yet!
Cadillac at the 2015 Montreal International Auto Show
2015-01-15
GM Press Release
Elmiraj Concept makes Canadian debut
Cadillac 2014 total sales increased by 10% - brand's best total sales since 1979
MONTREAL (Thursday, January 15, 2015)
– Today the Cadillac Elmiraj Concept made its Canadian debut at the 2015 Montreal International Auto Show, following a stellar 2014 sales year that that saw Cadillac total sales increase by 10 per cent, the brand's best sales in Canada since 1979.
"The Elmiraj concept is a great addition to our display here in Montreal, highlighting Cadillac's provocative modern design and performance, combined with bespoke craftsmanship and luxury," said Mahmoud Samara, brand director for Cadillac in Canada. "Visitors to the show will also see the transformation of Cadillac products, evident in the all-new ATS Coupe and CTS sedan. These vehicles boast expressive designs, exhilarating driving dynamics and precise craftsmanship."
Cadillac Elmiraj Concept:
The Elmiraj Concept is a grand coupe expressing pure enjoyment of driving and exploring new dimensions for Cadillac, showcasing a new vision for luxury driving and the top of the brand's expanding range.
A modern update to the classic format of a two-door grand coupe, Elmiraj is a pure expression of streamlined design and engaging rear-wheel drive performance. At 205 inches (5207mm) in overall length, Elmiraj is a four-seat coupe with presence and poise. Taking up from where the memorable Ciel Concept left off, Elmiraj is a statement of pure luxury and performance with a purposeful character and proportion.
Elmiraj is powered by a 4.5-liter twin turbocharged V8 delivering an estimated 500 hp. The engine takes the baseline technology from the new Cadillac Twin Turbo V6 featured in the upcoming 420-hp 2014 CTS Vsport edition, and expands it to the classic performance format of a V8 engine.
2015 Cadillac ATS Coupe:
The all-new 2015 ATS Coupe is designed to be lighter, more agile and more engaging than its competitors, while it extends Cadillac's product-driven growth and the brand's tradition of dynamic luxury Coupes.
Cadillac's first-ever compact luxury Coupe available now, offering drivers the choice of rear-wheel drive or all-wheel drive, and the power from a 2.0L turbocharged four-cylinder or a 3.6L six-cylinder. In all combinations, ATS Coupe takes advantage of its lightweight and strong structure to deliver exhilarating performance with efficiency, with a segment-leading power-to-weight ratio.
Like the sedan, the ATS Coupe's driving dynamics are rooted in mass efficiency, which helps make it one of Cadillac's lightest and most agile models ever – and the lightest car in the compact luxury Coupe segment. The 2.0L Turbo engine is upgraded from the current ATS sport sedan to deliver nearly 14 percent more torque, taking it to 295 lb-ft (400 Nm). This gives the standard ATS Coupe an advantage in power and weight over similarly equipped Coupes such as the BMW 428i.
Cadillac recently announced the expansion of the V-Series with the introduction of the ATS-V Coupe and ATS-V Sedan – two cars that offer a completely different flavor of V-Series performance: lighter and more powerful than their European peers, powered by the Cadillac Twin Turbo V6, and fully track-capable right out of the box.
About Cadillac in Canada
Cadillac has been a leading luxury auto brand since 1902. In recent years, Cadillac has engineered an historic renaissance led by artful engineering and advanced technology. More information on Cadillac can be found at
Cadillac Canada | Luxury Cars, SUVs, and Crossovers
.
# # #
​