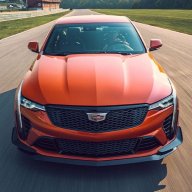 Administrator
Staff member
Joined

Nov 3, 2011
Messages

3,893
Location
V-Series Cadillac(s)?

Not Yet!
Cadillac Applies Art and Science to CTS Engine Sounds
Electronic enhancement tunes engine sound for different driving modes
2013-09-11
GM Media
Microphones inside the all-new 2014 Cadillac CTS listen to the roar of the engine,
and the electronic sound enhancement system selects preferred tones to come through CTS's Bose audio system.
DETROIT
–
Cadillac
engineers applied the principles of psychoacoustics, the science of sound perception, and car-guy instinct to create powerful and pleasant exhaust notes for the all-new 2014
CTS
midsize luxury sedan
and CTS Vsport.
Knowing that engine sound communicates throttle response to the driver, CTS engineers uniquely tuned each selectable driving mode – Tour, Sport and Track – to provide the driver with a specific sound impression of what's happening under the hood.
Tour mode purrs with refinement. Sport mode growls with power. Track mode, only available on the CTS Vsport equipped with Cadillac's first
Twin-Turbo engine
, roars even more aggressively.
The team drew upon its knowledge of what tones sound the most pleasing to human ears based on the study of psychoacoustics, surveyed the sounds made by competitor models and relied on their own ears when selecting final tones.
Engineers strategically placed microphones in the CTS cabin and used an integrated electronic sound enhancement system to execute the sound designs. The microphones listen to the roar of the engine and the enhancement system selects preferred tones to come through CTS's Bose audio system. No artificial sounds are used.
"The sound enhancement system acts like a choir conductor, calling forth certain engine sounds to sing the loudest depending on the driving mode," said Dave Leone, CTS executive chief engineer, Performance Luxury Vehicles. "We used our ears to tell us what sounded the best and programmed the system to listen for those tones. It is Cadillac's Art and Science design philosophy applied to engine sound."
The CTS has been the centerpiece of Cadillac's portfolio for more than a decade. The third-generation CTS is one inch lower, five inches longer and more than 200 pounds lighter than its predecessor. The new car also has lower curb weight, higher structural stiffness and more horsepower than its primary competitors.
Engineered from the ground up to deliver a driving experience that combines sport-tuned handling with world-class comfort, the all-new CTS includes segment-exclusive Magnetic Ride Control and electronic limited slip differential, which constantly monitors rear-wheel rotation from one side versus the other to ensure optimal handling on a variety of road conditions.
Pricing for the 2014 CTS standard model starts at $46,025, including $925 destination. Three Collections of option packages – Luxury, Performance and Premium – will be offered with either the 2.0T turbocharged four cylinder or 3.6L naturally aspirated V6 engine in either rear- or all-wheel drive. The CTS Vsport model starts at $59,995, including $925 destination, and features the new Cadillac Twin-Turbo 3.6L V6 (420 hp) in RWD only with Cadillac's first eight-speed transmission.
About Cadillac
Cadillac has been a leading luxury auto brand since 1902. Today Cadillac is growing globally, driven by an expanding product portfolio featuring dramatic design and technology. More information on Cadillac appears at
www.cadillac.com
. Cadillac's media website with information, images and video can be found at
media.cadillac.com
.
# # #
<object id="flashObj" classid="clsid
27CDB6E-AE6D-11cf-96B8-444553540000" codebase="http://download.macromedia.com/pub/shockwave/cabs/flash/swflash.cab#version=9,0,47,0" height="270" width="480"><embed src="http://c.brightcove.com/services/viewer/federated_f9?isVid=1&isUI=1" bgcolor="#FFFFFF" flashvars="videoId=2663000421001&playerID=1055201185001&playerKey=AQ~~,AAAA9K3O_eE~,BF-rjVZt6dxWMzhYS_d0aK6IljUB_vgT&domain=embed&dynamicStreaming=true" base="http://admin.brightcove.com" name="flashObj" seamlesstabbing="false" type="application/x-shockwave-flash" allowfullscreen="true" allowscriptaccess="always" swliveconnect="true" pluginspage="http://www.macromedia.com/shockwave/download/index.cgi?P1_Prod_Version=ShockwaveFlash" height="270" width="480"></object>
​