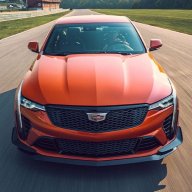 Administrator
Staff member
Joined

Nov 3, 2011
Messages

3,810
Location
V-Series Cadillac(s)?

Not Yet!
Cadillac aims to grow sales by 33% in U.S. this year
By Brent Snavely
Detroit Free Press Business Writer
NEW YORK
– Cadillac chief Bob Ferguson said tonight that he expects Cadillac sales will grow more than 32% this year in the U.S. after a redesigned version of the CTS was unveiled in New York City.
Sales of General Motors' luxury brand have increased 32% in the U.S. during the first two months of 2013 and the brand had another good month in March.
"Our ambition is to exceed that number" for the year, Ferguson said tonight.
Ferguson made the comments a few moments after Cadillac unveiled the 2014 Cadillac CTS at the Frederick P. Rose Hall: Rose Theater with several hundred guests and members of the media looking on.
Full Story:
Cadillac aims to grow sales by 33% in U.S. this year | Detroit Free Press | freep.com