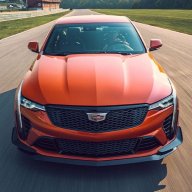 Administrator
Staff member
Joined

Nov 3, 2011
Messages

3,867
Location
V-Series Cadillac(s)?

Not Yet!
Cadillac's Cut-and-Sewn Interiors Fuse Art and Science
Careful handcraftsmanship combines with advanced technology for interiors

2014-09-30
GM Press Release
DETROIT
– Cadillac is the only full-line automaker constructing all of its models' interiors via Cut-and-Sew, a technique combining the precision of advanced technology with the care of handcraftsmanship in which materials for major interior components are literally joined by hand stitching.
"Put simply, Cut-and-Sew is people sitting behind sewing machines and sewing the material together," said Eric Clough, director of design, Cadillac interiors. "We use Cut-and-Sew in Cadillacs because it is distinctive and a very premium process."
Before pieces are sewn together to form the coverings for various interior components, materials and hides are hand-inspected and the patterns "nested" by a scrap-reducing computer-automated machine. These pieces are transferred to different stations for the hand-sewing of functional and decorative stitching. Application to the various interior parts – such as dashboards, door panels and center consoles – are also done by hand.
Full Story with Videos:
Cadillac??s Cut-and-Sewn Interiors Fuse Art and Science | Cadillac V-Net