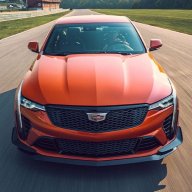 Administrator
Staff member
Joined

Nov 3, 2011
Messages

3,866
Location
V-Series Cadillac(s)?

Not Yet!
Aluminum, Structural Adhesive Help Boost Cadillac Performance and Quietness
Bonding agent reduces squeaks and rattles; aluminum cuts ATS and CTS weight
2013-05-09
GM Press Release
DETROIT
– Greater use of structural adhesive and aluminum is helping Cadillac reduce overall weight of the ATS and all-new CTS sedans, contributing to better ride and handling and reduced cabin noise in both models.
The new CTS uses 387 feet of structural adhesive – more than the length of a football field – as a bonding agent that holds together and stiffens load-bearing parts and components. The extensive use of adhesive provides a damping effect, which reduces the transmission of vibration through the body structure. That pays off in fewer squeaks and rattles reaching a driver.
The heavy-duty material, along with traditional metal joining processes like spot welding, also makes a stiffer, more durable joint. These advanced techniques, in addition to the use of high-strength steels and efficient geometry helps make the new CTS sedan 40 percent stiffer than the previous model.
To further improve performance, aluminum was used extensively to save weight. For the first time, all four doors will be constructed of aluminum; cutting 55 pounds compared with the steel doors on the previous generation CTS. With a base curb weight of 3,600 lbs., CTS is the lightest vehicle in its class, roughly 200 pounds lighter than a comparable BMW 528i.
"Reducing overall weight is a key element in producing a car that delivers agile handling dynamics," said John Plonka, CTS program engineering manager. "By rethinking very traditional elements, such as such as materials used for bumpers and doors, we are able to save precious weight and stay true to delivering a vehicle that is fun to drive."
Other aluminum contributions to weight savings:
13.1 pounds by replacing steel bumpers on the current generation CTS.
14 pounds by making front strut towers of cast aluminum compared with steel used in current CTS.
7.2 pounds from the instrument panel structure, where extruded and stamped aluminum replaced cast magnesium.
36.5 pounds by using extruded and cast aluminum vs. a steel powertrain cradle on the current model.
Strategic use of aluminum is also an integral component of the ATS luxury sport sedan, which shares architecture with the new CTS sedan. At just 3,315 lbs., ATS is among the lightest vehicles in its class.
The ATS powertrain features extensive use of aluminum, which not only helps cut weight but also contributes to the car's nearly perfect 50/50 weight distribution for improved driving dynamics. The ATS also has an aluminum hood, suspension cradle and cylinder heads.
The 2014 Cadillac CTS ascends into the heart of the midsize luxury market with expanded performance, elevated styling and sophisticated technology. The vehicle arrives in showrooms this fall. The ATS is Cadillac's entry in to the most significant luxury car segment. Since its launch last fall, ATS has received several accolades, including the first Cadillac to win the North American Car of the Year award.
Cadillac has been a leading luxury auto brand since 1902. Today Cadillac is growing globally, driven by an expanding product portfolio featuring dramatic design and technology. More information on Cadillac appears at
www.cadillac.com
. Cadillac's media website with information, images and video can be found at
media.cadillac.com
.
# # #
​