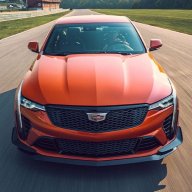 Administrator
Staff member
Joined

Nov 3, 2011
Messages

3,893
Location
V-Series Cadillac(s)?

Not Yet!
Stingray, Cadillac CTS, Mazda3 named 'Car of Year' finalists; Cherokee, Silverado, Acura MDX are top trucks
Larry P. Vellequette
Automotive News
December 10, 2013 - 1:07 pm ET

DETROIT
-- The Cadillac CTS, Mazda3 and Chevrolet Corvette Stingray were named finalists today for North American Car of the Year, while the Jeep Cherokee, Chevrolet Silverado and Acura MDX were named truck/utility finalists.
The 2014 North American Car and Truck of the Year will be announced Jan. 13 during a press conference before the Detroit auto show press days. The finalists were named at an Automotive Press Association luncheon at the Detroit Athletic Club.
The six finalists were selected by an independent jury of 48 automotive journalists from 11 cars and 12 truck and utility vehicles. To be eligible, a vehicle must be redesigned or substantially changed and be introduced during 2013.
Full Story:
http://www.autonews.com/article/201...car-of-year-finalists;-cherokee#ixzz2n7DoTrKN