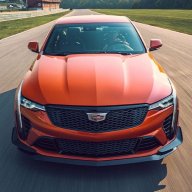 Administrator
Staff member
Joined

Nov 3, 2011
Messages

3,809
Location
V-Series Cadillac(s)?

Not Yet!
2014 Motor Trend Car of the Year: Cadillac CTS
A Car for All Seasons
By most calendars, a decade isn't a long time in the grand scheme of things -- except on the automotive calendar, where it is nearly an eternity. Aside from some extreme cases, a decade encompasses at least two vehicle generations. It's the average amount of time a typical consumer keeps a newly purchased car. It can also be the difference between also-ran and champion.
Examine our 2003 Car of the Year competition, if you will. The Infiniti G35 won by offering an unbeatable combination of style, refinement, handling, and value. We put BMW on notice: The Japanese have done it better. The Cadillac CTS, meanwhile, was barely mentioned, and praised only for its bold new design.
Welcome to 11 years later. In the intervening time, the CTS evolved into a champion in its own right, and was named Car of the Year in 2008. Again, we put Germany on notice: America's coming. In neither of those victories, though, did either car face down its competition for the title. That's what makes this year different.
The Infiniti Q50 -- the G35's modern successor -- is hobbled with driveability issues and relegated to Contender, not Finalist, and certainly not Winner. Likewise missing from the Finalist and Winner's circles are the BMW 5 Series and Mercedes-Benz E-Class, both direct competitors to the CTS, and the standard-bearers of the segment.
Full Story:
2014 Motor Trend Car of the Year: Cadillac CTS - Motor Trend