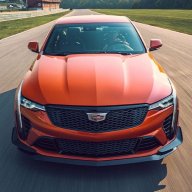 Administrator
Staff member
Joined

Nov 3, 2011
Messages

3,891
Location
V-Series Cadillac(s)?

Not Yet!
2014 Cadillac CTS Vsport First Drive
From the October 2013 issue of Automobile Magazine Todd Lassa - by Todd Lassa
Milford, Michigan
-- General Motors' top management has had its ups and downs over the years, but the engineering and design departments have always been among the best in the world. When GM's suits and bean counters manage to do their jobs well, they give engineers and designers the resources necessary to fulfill their collective potential. A decade into the Cadillac division's struggle to once again build credible, world-class luxury cars, upper management seems to have let the creative people loose in their effort to catch BMW.
The latest evidence is the new, twin-turbo V-6-powered VSport variant of Cadillac's freshly minted third-generation CTS. With this larger CTS, Cadillac is quickly rising to the top of the mid-size luxury segment that the Mercedes-Benz E-class, Audi A6, and BMW 5-series have dominated for so long. The CTS achieves this in part by becoming the segment's biggest loser (the base model is nearly 250 pounds lighter).
Engineering chief Dave Leone, who deserves credit as much as anyone for Cadillac's renaissance, started with the new Alpha platform (ATS and next Chevy Camaro) and designed more elegant substructures. His team designed door structures, a hood, and other pieces of aluminum; made parts like the engine brackets of magnesium; and added loads of high-strength steel. Leone says the base car is 200 pounds lighter than a BMW 528i; the normally aspirated, 3.6L V-6 CTS is 350 pounds lighter than a 535i; and the twin-turbo 3.6L Vsport is 400 pounds lighter than a 550i.
Full Story:
2014 Cadillac CTS Vsport First Drive - Automobile Magazine