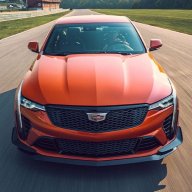 Administrator
Staff member
Joined

Nov 3, 2011
Messages

3,891
Location
V-Series Cadillac(s)?

Not Yet!
2014 Cadillac CTS-V to Get a Force-Fed LT1 Engine?
Rob Loszewski, Site Administrator
Cadillac V-Net
February 17, 2013
Motor Trend is reporting that according to their contacts, the next generation 2014 Cadillac CTS-V could be getting some form of a forced induction Gen V LT1 Engine.
The Gen V LT1 just debuted on the 2014 C7 Corvette Stingray, and in naturally aspirated form, puts out 450hp and 450lb-ft of torque.
Supposedly, GM has not made a final decision as to whether they will go the twin-turbo charged or supercharged route, however one form or the other will appear in the CTS-V.
I'll stick my neck out on a limb here and say that I wouldn't be surprised if we see a combination of the Gen V LT1 with some form of the Eaton Roots-Type Supercharger, currently used on the 2013 Corvette ZR1. Now THAT would be a screamer!