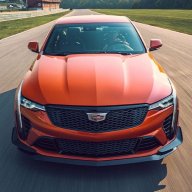 Administrator
Staff member
Joined

Nov 3, 2011
Messages

3,893
Location
V-Series Cadillac(s)?

Not Yet!
2.0L Turbo for Cadillac ATS Makes Best Engines List
Four-cylinder recognized by WardsAuto World as industry leader
2012-12-12
DETROIT
– The 2.0L turbo I-4 engine that powers the all-new Cadillac ATS is one of WardsAuto.com 2013 "10 Best Engines" for North America.
The 2.0L turbo's 272 horsepower is the highest specific output of any GM production engine, and at 136 hp per liter, is the most power-dense engine certified by the Society of Automotive Engineers.
"The 2.0L turbo 4-cylinder is a stout performer that impressed all the WardsAuto editors," said Tom Murphy, executive editor of WardsAuto.com. "It muscled its way back into the winners' circle with remarkable horsepower per liter, and the engineers deserve kudos for reducing engine friction some 16 percent, which means it runs smoother and more efficiently."
Murphy added, "This engine gets four mpg better on the highway than the earlier version did a year ago in the Buick Regal GS, a former Ward's 10 Best Engines honoree. That's impressive. If the ATS can nibble into the market share of well-established German brands, the 2.0L turbo should get most of the credit."
ATS's lightweight and aerodynamic design allows it to accelerate from 0-60 in 5.9 seconds when equipped with the 2.0L turbo engine, while delivering EPA-rated fuel economy of 21 city and 31 highway mpg.
Ward's reviewed 40 engines from 16 automakers in this year's competition. Winners were chosen based on several factors, including power, fuel efficiency, new technology, refinement, and comparative data for similar engines.
The 2.0L turbo engine includes the latest in technology combinations.
"Benchmark efficiency and refinement were our top priorities when developing the all-new 2.0L turbo," said Mike Anderson, global chief engineer for Ecotec engines. "The team was focused on using technology to reduce friction and engine noise and also managed to take specific output to a new level."
Among the 2.0L turbo engine's highlights: a direct-injection twin-cam, four-valve-per-cylinder engine with continuously variable valve timing; twin-scroll turbocharger with air-to-air intercooler; forged-steel crankshaft with modular balance shaft system; and a two-stage variable-displacement oil pump with jet-spray piston cooling.
The 2.0L turbo has a wide torque curve, delivering 90 percent of its peak 260 lb-ft. of torque (353 Nm) from 1,500 rpm to 5,800 rpm – giving the ATS the feeling of immediate power, whether from launch at a stop light or during higher-speed maneuvers, such as passing.
The new 2.0L turbo engine is also used on the Chevrolet Malibu and is built in Tonawanda, N.Y.
The 2.0L turbo ATS is priced at $35,795, including destination (excluding tax, title, license and dealer fees) and offers automatic and manual transmissions, and rear- or all-wheel drive. ATS also is available with a standard 2.5L four-cylinder, and a 3.6L V-6 is available.
General Motors Co. (NYSE:GM, TSX: GMM) and its partners produce vehicles in 30 countries, and the company has leadership positions in the world's largest and fastest-growing automotive markets. GM's brands include Chevrolet and Cadillac, as well as Baojun, Buick, GMC, Holden, Isuzu, Jiefang, Opel, Vauxhall and Wuling. More information on the company and its subsidiaries, including OnStar, a global leader in vehicle safety, security and information services, can be found at
General Motors | GM.com
.