2015 - 2018 Cadillac CTS-V: GM TechLink: Hard Shifting into 1st Gear or Reverse
2015 - 2018 Cadillac CTS-V: Hard Shifting into 1st Gear or Reverse
GM TechLink
June 10, 2017
Hard shifting conditions when shifting into 1st gear or Reverse may be found on some 2014 - 2018 Silverado, Sierra and Corvette models equipped the 4.3L V6 engine, 5.3L V8 engine or 6.2L V8 engine (RPOs LV3, L83, L86, LT4) and 2015 - 2018 Cadillac CTS-V, Escalade, Tahoe, Suburban, Yukon; and 2016-2018 Camaro models equipped with the 5.3L V8 or 6.2L V8 engine (RPOs L83, L86, LT4).
On Silverado, Sierra, CTS-V, Escalade, Tahoe, Suburban, Yukon, and Camaro models, when shifting the automatic transmission into Drive or Reverse, a clunk sound may be heard.
On Corvette models only, it may be difficult to shift into 1st gear or Reverse with a manual transmission or there may be a vibration on takeoff or a clunk noise when shifting into Drive or Reverse with an automatic transmission.
Crankshaft End Play
The hard shifting conditions may require replacement of the crankshaft or thrust bearing. Before replacing any components, check for excessive crankshaft end play. Crankshaft end play clearance should be within a specification of 0.0015–0.0086 in. (0.040–0.220 mm).
Crankshaft Wear
If end play is found to be out of specification, remove the engine and check for possible crankshaft thrust bearing or crankshaft wear. The crankshaft and bearings should not show signs of excessive wear. (Fig. 10) Inspect the thrust bearing for wear on one side and the crankshaft on the mating surface.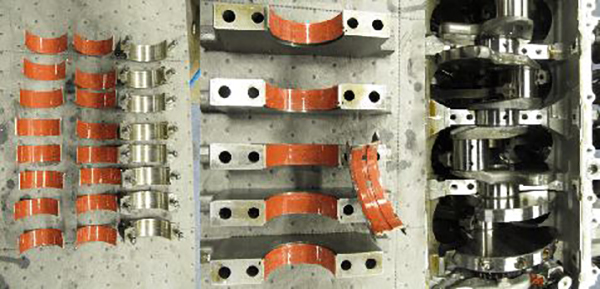 Fig. 10
If wear is evident — the three vertical channels may be worn off — replace the connecting rods, main bearings, thrust bearing and crankshaft.
TIP: On engines with a dry sump oil system, the oil tank and lines, and the oil cooler (if equipped) (Fig. 11), should be replaced when repairing the engine.
Fig. 11
– Thanks to Richard Renshaw