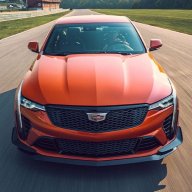 Administrator
Staff member
Joined

Nov 3, 2011
Messages

3,809
Location
V-Series Cadillac(s)?

Not Yet!

Bourdais, van der Zande drive No. 01 Cadillac V-Series.R to victory​
MONTEREY, Calif. (May 14, 2023)
— Sebastien Bourdais joined the No. 01 Cadillac V-Series.R crew on the pit wall to cheer Renger van der Zande to the checkered flag Sunday in the MOTUL Course de Monterey at WeatherTech Raceway Laguna Seca.
The celebration continued in an emotional Victory Circle as the team recorded its initial win in the IMSA WeatherTech SportsCar Championship Grand Touring Prototype class and its first since July 2022.
"With the two months we've had lately, this feels really good," said Bourdais, who earned his 11th IMSA victory. "I'm really, really happy for the boys. You can see it. Emotions run high, and it's not because of a race win. We had to dig ourselves out of a big hole. It's really good for the whole group and for Cadillac. Renger did awesome as always. I couldn't be happier for everyone involved here."
The victory was the first for Cadillac Racing in prototype competition at the racetrack and the second overall. Max Papis drove a Cadillac CTS-V to the win in the 2005 Speed World Challenge GT race. Cadillac, which has won two of the four GTP races this season, increased its prototype win total to 29 since 2017 and 68 in all classes since 2004.
The No. 31 Whelen Engineering Cadillac V-Series.R, co-driven by Pipo Derani and Alexander Sims, earned third place after starting fourth and reclaimed the GTP driver and team championship points lead.
"It was a great weekend for Cadillac Racing with the No. 01 Cadillac leading the field home at Laguna Seca and the No. 31 Whelen Engineering Cadillac also getting a podium," Cadillac Global Vice President Rory Harvey said.
Bourdais and van der Zande won three races in 2022 in the No. 01 Cadillac in the final season of DPi competition. Disappointment overrode prospects in the first three races of the IMSA season and in an FIA World Endurance Championship appearance two weeks earlier at Spa-Francorchamps. Even this weekend, a shunt in the first free practice session and an off-track adventure in the sand/gravel negated a proper qualifying simulation and Bourdais qualified sixth in the nine-car GTP field.
"This team has been pushing really hard, long hours, dealing with the ups and downs of racing, so congratulations on a great race victory," GM sports car racing program manager Laura Wontrop Klauser said. "I hope they enjoy every second of this win and they take a minute to relax because we have to get ready for the next race."
That is the centenary 24 Hours of Le Mans on June 10-11. The IMSA race-winning car will be prepped and shipped to France for the classic endurance race in which Bourdais and van der Zande will be joined by endurance driver Scott Dixon.
Bourdais handed off the wheel to van der Zande during a full-service stop under caution with 1 hour, 36 minutes left in the 2-hour, 40-minute race on the 2.238-mile, 11-turn road course and rejoined the field in seventh position. With 1 hour, 22 minutes left, Derani bolted to the lead and set the quickest lap of the race at 1 minute, 16.421 seconds in increasing the margin over the No. 10 Acura.
Van der Zande overtook the No. 10 for second with 1 hour, 11 minutes left and retained the spot until Derani brought the No. 31 Whelen Engineering Cadillac V-Series.R onto pit lane for fuel, tires and the mandatory driver change to Sims. Van der Zande made his final pit stop two minutes later and the Cadillacs ran 1-2 when another full-course caution slowed the field.
On the restart with 41 minutes left, van der Zande got a run on Sims and completed the pass for the lead that he did not relinquish. Van der Zande, competing in his 100th North American sports car race since 2013, picked up his 19th victory.
Derani and Sims will be joined by endurance driver Jack Aitken for Le Mans. The Cadillac Racing trio of Hypercar entries will also include the No. 2 Cadillac V-Series.R, co-driven by Earl Bamber, Alex Lynn and Richard Westbrook, that is the full-time FIA World Endurance Championship entrant.
The next IMSA race is June 23-25 at Watkins Glen International in New York.
No. 01 Cadillac V-Series.R​
Sebastien Bourdais:
"Everyone knows how challenging the last couple of months have been since our Sebring retirement. It's never fun to go through those phases, but it's part of racing. It's something you have to pull through. I think the whole group was starting to lose a little bit spirits, I'd say. So it's really good that we've gotten our head out of it with a win today. The weekend started really bad again with a crash on Friday that compromised the amount of testing we had and data we got for long runs. It trickled down to Saturday because we didn't get a qualifying sim, so the effort wasn't that great to get sixth. The start was kind of chaotic and we ended up buried in seventh or eighth. The guys did a really good call on strategy and cycled us to third. Things were starting to look up at that point. The car was starting to come alive and the track gripped up. It felt good and I could start to push and run the two leaders down. Then the yellow came out and it put us all the way back to seventh. Renger came out and did it again! I couldn't ask for a better teammate. When he's put in those positions, I don't think there is anybody better than him. He made some pretty critical passes to get us to the front and managed from there. I'm super happy for Cadillac. You could see the emotions running through everyone, and this sets up as best as possible going to Le Mans. We'll try to carry that momentum."
Renger van der Zande:
"Thanks to Seb for the nice words. We are a good team and are fantastic teammates with everyone. Chip Ganassi Racing and Cadillac with all the effort they are putting in, it's days and nights of work. They aren't sleeping much. So it's amazing to pay it off with a win like this. Like Seb said, we cycled a few times to the front and the back. I love this place. Laguna Seca is one of the best racetracks. It's a very interesting track for setup. The tire wear is high, and you need to set up the car for it. From a driver's perspective, you need to manage it as well. Coming from a big shunt at Spa to win this race is what you call lows and highs! This is our Le Mans car. It's going to Le Mans and it's a winner. It's a winning car that will get flown over to Le Mans and fight for the big one. Today, we're going to celebrate a bit. There's not much time to Le Mans to put everything in perspective that we learned today about the car, the engine, the hybrid, the braking and all the systems that in there. It's so nice when we get a win like this. One of the tricks they gave me in the car gave me this win with braking. I'm really proud of the whole team. I was testing Tuesday at Portimao and then Friday, Saturday and Sunday at Laguna Seca. It's been a good day and a good week."
No. 31 Whelen Engineering Cadillac V-Series.R​
Pipo Derani:
"It was a good race. Happy for Cadillac with a win and on our side happy with my stint. IMSA racing is so unpredictable and there are so many things that can go into account. It was a good points day for us with the Whelen Engineering Cadillac. The whole team did a fantastic job and happy to go away with a podium. We continue to push this fight forward."
Alexander Sims:
"Pipo was doing a fantastic job and had really good pace. I was given everything I could have been given to do the job, but ultimately I didn't have the same pace as Pipo and I made two costly errors in terms of the restart and getting my tires up to temperature properly and Renger driving on the outside of me and then just being too cautious in traffic and Nick (Tandy) got around me. Good points day and nice to be on the podium."