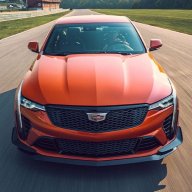 Administrator
Staff member
Joined

Nov 3, 2011
Messages

3,380
Location
V-Series Cadillac(s)?

Not Yet!
LETTERS can be so meaningful. M affixed to a BMW or AMG on a Mercedes-Benz seduces performance enthusiasts. The V, found on Cadillac, is the last of them alphabetically but possibly Speed Racer's first consonant of choice. Seriously. The ATS-V sedan and coupe, built to take on C63, M3 and M4, is the real deal for taming tarmac. If only Cadillac had street cred.

Not that General Motors' premium brand has been resting on its now nonexistent laurels — a new logo ditches the wreath, management has international experience, the head office has been moved to Manhattan, and, most important, its new product is world class. Auto writers typically gush about ATS and CTS. Buyers have responded with yawns.

Hello? Marketing? This should be a sales slam dunk.