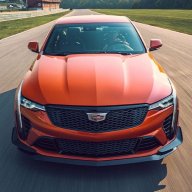 Administrator
Staff member
Joined

Nov 3, 2011
Messages

3,398
Location
V-Series Cadillac(s)?

Not Yet!
Video: 2016 Cadillac CTS-V: Just How Good Is The Cadillac With The Corvette Engine? - Ignition Ep. 141
On this episode of Ignition presented by Tire Rack, racing pro Randy Pobst gets his mitts on the brand new, third-generation Cadillac CTS-V. When the second-generation CTS-V came out with 556 horsepower, people could hardly believe it. Today, one model newer, and Cadillac has raised the horsepower bar again by grafting in the supercharged, 6.2-liter LT4 V-8 straight outta Big Nasty, aka the Corvette Z06. Power is down compared to the Z06, though only fractionally. Instead of 650 horsepower the Caddy makes 640 hp. The CTS-V also shares the big dog Corvette's tires, shocks, eDiff, and transmission. So how good is this sinister 4-door? How big is Randy's grin? And why does Jonny Lieberman suddenly show up halfway through the episode? There's only one way to find out!