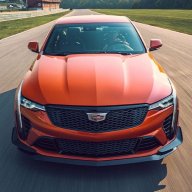 Administrator
Staff member
Joined

Nov 3, 2011
Messages

3,893
Location
V-Series Cadillac(s)?

Not Yet!
Let's be honest, it has been quite some time since Cadillac has been "the Cadillac" of anything. With the 2014 CTS V-Sport, Cadillac is aiming to turn the clock back to Cadillac's heyday. The 2014 V-Sport isn't the value option in the segment and it isn't even the cheapest option when you really think about it. Instead Cadillac has done something that many detractors thought impossible for an American brand: they quite simply made the better sedan. The 2014 V-Sport may bring a V6 to a V8 fight, but after a week with Caddy's new sport sedan it was easy to pick the winner. Unless you're looking to deck your BMW, Mercedes or Audi up with rare and expensive options, the CTS does just about everything the Germans can only better. Are you shocked? I was. Join me to find out more.

Music contained inside is licensed ubder Creative Commons
http://incompetech.com/music/royalty-...

Sweeter Vermouth Kevin MacLeod (incompetech.com)
Licensed under Creative Commons: By Attribution 3.0
http://creativecommons.org/licenses/b...