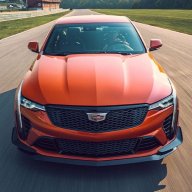 Administrator
Staff member
Joined

Nov 3, 2011
Messages

3,044
Location
V-Series Cadillac(s)?

Not Yet!
I saw that someone mentioned that the forum here has been dead lately after the ordering buzz has died down.

This can be attributed to a couple things:

1. The buzz has died down after the ordering frenzy and now everyone is just in a holding pattern till production begins

2. Forums have lost their appeal over the years with the increase in social media popularity and everyone's desire to take part in the constant bombardment of information overload flow that's a huge part of social media.

Personally, I think forum sites are still extremely beneficial because it's easy to search for information that you're looking for than it is on a social media site like Facebook.

I've been relatively quiet here because I really haven't had any new news to report even though I do try to find some on a daily basis.

Once we near production, I'll expand the Blackwing forum out to include a Mods forum, parts for sale forum, etc. I just haven't done it yet because it's a bit too early.

Of course, I'm always open to suggestion. So if you have ideas on forums here, or changes, or improvements that would help improve your experience here, I'm totally open.

If I can do it, I will.