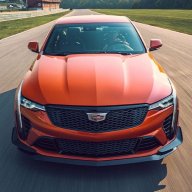 Administrator
Staff member
Joined

Nov 3, 2011
Messages

3,768
Location
V-Series Cadillac(s)?

Not Yet!
As I sit here watching Cadillac lead the Sebring race with 3.5 hours to go, the gears inside my head have started turning.

As you can see by my signature, I'm a Corvette and Cadillac XLR enthusiast and I've followed the rebirth of Corvette racing since the late 1990s.

Over the last several years, Cadillac has developed an impressive racing team and car, even though the race cars looking nothing like the production models.

Corvette marketing has done a great job of marketing the Corvette by spotlighting that, what they learn on the track from the race car, trickles down to the production automobile that rolls out of the dealer showroom.

So my question is, how much of what you learn from the Cadillac race cars, trickles down to the V-series line that rolls out of the dealership showroom?

There's no dispute, the Blackwings are impressive cars from many aspects but it's difficult for me to classify them as "sports cars".

The Corvette is and always has been, a true, 2-seater sports car. Cadillac, since it's inception, has been known for quality and luxury (let's just forget about the Catera for the sake of discussion, lol). The V-series line has done a pretty good job of trying to meld both qualities into one, but I feel like Cadillac continues to fight with an identity crisis.

To this day, the demise of the XLR still saddens me, but the high MSRP, was a death knell for the platform. I would have loved to see that model continue to grow and evolve and to truly see what's learned on the track today at Sebring, trickles down into an XLR sports car that combines performance and luxury, into a true, two-seater sports car.

When I see the Corvette C8.R on the track at Sebring, and I climb behind the wheel of a 2023 Corvette Z06, and press the start button, I have a degree of confidence, that there's a little bit of Sebring in the car that I just started.

I don't get that same feeling when I start up a Blackwing; it doesn't make me think of the Cadillac race cars at Sebring.