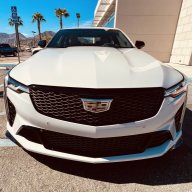 Joined

Mar 13, 2022
Messages

259
Location
V-Series Cadillac(s)?

23' CT4V-BW
Hi all, thanks for all the great info on this site.

I've been driving a 2020 Ford Explorer ST (tuned and a few mods) for the last two years. Looking forward to the new 4BW that's on order. The Avatar of the 76 Vette was my first car back when I was 18. Road motorcycles exclusively since 15 before I had the Vette. Long time motorcycle rider, dirt bikes since I was 5, street bikes since 15, still ride dirt and spent 5 years road racing with three organizations from 2007 - 2012. I'm also an avid cyclist, road, mountain and gravel. The 4BW will by my daily commuter to work, 125 miles/day, 40 miles of which are 2 lane canyon road (YAY!). The 4BW will also be my road bike hauler with the rear seats down and the bike in the trunk. Will likely need to borrow the wife's Pacifica to haul the mountain bike.

I work in broadcasting in LA, electronics nerd and Ham Radio operator (since 9yo).

Hope to join the owners club sometime in the near future.