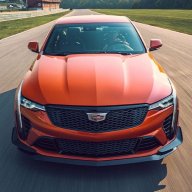 Administrator
Staff member
Joined

Nov 3, 2011
Messages

3,430
Location
V-Series Cadillac(s)?

Not Yet!
One of the Cadillac V-Net's Site Sponsors,
MacMulkin Cadillac of Nashua, NH
recently took delivery of a brand new 2018 Cadillac CTS-V with a total price of $106,130. Wow, how the times have changed!
The first generation CTS-V debuted in 2004 with a starting MSRP of $49,300 and hit approximately $58,575 when the second generation CTS-V debuted in 2009. Fast forward to 2018 and we see that the starting MSRP for a third generation, 2018 Cadillac CTS-V is $86,295. That's a jump of about $30,000 in nine years, but is it worth it?

Full Article and Video on the Cadillac V-Net's Home Page >>>