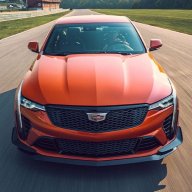 Administrator
Staff member
Joined

Nov 3, 2011
Messages

3,401
Location
V-Series Cadillac(s)?

Not Yet!
Transmission Adaptive Functions
GM TechLink
March 3, 2016
Some owners of low-mileage
2015-2016 Cadillac, Chevrolet and GMC models equipped with the new 8L90 or 8L45 automatic transmission (RPOs M5U, M5T, M5N, M5X)
may comment that shifting feels too firm (harsh) or that it slips or flares.
These transmissions use an adaptive function that's designed to keep the transmission clutch apply time(s) at the predetermined length to produce the intended shift feel. This results in the transmission automatically adapting the clutch apply pressure(s) over time.
The purpose of the adaptive function is to maintain the time it takes to complete a clutch apply to produce the desired shift quality for the various vehicle shift control systems. The adaptive function is a continuous process that will help maintain optimal shift quality throughout the life of the vehicle.
How the Adaptive Function Operates
The Hydra-Matic 8-speed transmission (Fig. 12) employs a line pressure and volume control system during upshifts to compensate for new transmission build variation as well as the normal wear of components. Over time, the variation from new and normal wear of the apply components within the transmission can cause shift time (the time required to apply a clutch) to be longer or shorter than desired.
To compensate for these changes, the Transmission Control Module (TCM) adjusts the pressure commands to the various pressure control (PC) solenoids to maintain the originally calibrated shift timing. The automatic adjusting process is referred to as adaptive learning and helps ensure consistent shift feel while increasing transmission durability.
The TCM monitors the A/T input speed sensor (ISS) and A/T output speed sensor (OSS) during commanded shifts to determine whether a shift is occurring too fast (harsh) or too slow (soft). It then adjusts the corresponding PC solenoid signal to maintain the set shift feel.
Adjusting Adapts for Correct Shift Feel
The transmission adapts can be reset and relearned on most vehicles. Clearing and relearning the shift adapts should not be considered a repair process and is intended to be performed only when a repair has been performed to the transmission.
If a transmission assembly, valve body or Transmission Control Module (TCM) replacement is required, reset the shift adapts by performing a refresh of the Characterization Data and completing the Transmission Service Fast Learn procedure. These procedures are completed in the service bay using GDS 2. After performing the procedures, evaluate the shifts and further learn pressures and volumes if required.
If there is a specific shift concern on the transmission, the Service Fast Learn should not be performed. Complete the appropriate driving learn procedure to further learn clutch pressures and volumes for specific shift concerns.
For details on these adaptive learn procedures, refer to Bulletin #16-NA-019 for MY 2016 and Bulletin #14-07-30-001F for MY 2015. These procedures are model year specific.
- Thanks to Mark Gordon