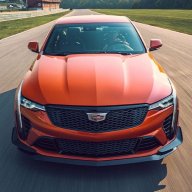 Administrator
Staff member
Joined

Nov 3, 2011
Messages

3,764
Location
V-Series Cadillac(s)?

Not Yet!
by Hib Halverson
Someday, I'd like to meet whomever at GearWrench develops the brand's work lights. Over the last several years, we've evaluated two of them. Both were "hits" and are still in service at the V-Net service facility.
We just finished a two week test of a third member of the Gear Wrench work light family: the GearWrench "1000 Lumen Rechargeable Wing Light with Underhood Rack" (PN 83350). Initially, when the GearWrench people suggested we test this product, we were hesitant being unsure how the rack's mounting would prevent paint damage. Once we had the product, we found the hook-like loops used to mount the rack are rubber coated, so hanging it on the top edges of the hood like we used it on the ATS-V in our photos, does not scratch or mar the paint.
Full Review:​
The GearWrench Wing Light on the Underhood Rack is a quantum leap past that old trouble light. It's brighter. It focuses the light on the work rather throwing light all over the place.