Joined

Nov 4, 2011
Messages

801
Location
V-Series Cadillac(s)?

'11 V Wagon, ( '13 427 Vette & '14 ATS)
My local Cadillac dealership had a little gathering of V-cars and others today. Here's a few pictures: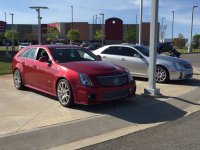 My V-Wagon and an STS V.
4 V-wagons - the forth is there just hard to see. My red '11 wagon, a black '13, a white '13 and another black '13.
V2 Wagon (mine), V2 sedan, V3 sedan and ATS V sedan
No V1's at this gathering.