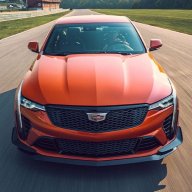 Administrator
Staff member
Joined

Nov 3, 2011
Messages

3,380
Location
V-Series Cadillac(s)?

Not Yet!
DRIVEN: 2016 Cadillac ATS-V Review
April 25, 2015
By: Jason Harper
Automobile Magazine
Tony Roma's secret sauce has nothing to do with babyback ribs.
The Tony Roma we're talking about is an engineer at Cadillac rather than the man behind the barbecue restaurant chain. This Tony takes cold metal and raw data and turns them into saucy, soulful machines. He's had a hand in all of the V-Series cars and is the chief engineer of the second-generation CTS.
Now, Roma and his team have cooked up something new: the first-ever 2016 Cadillac ATS-V.
Fittingly, I get a sense of this otherwise quiet and unassuming guy—born and raised in Ohio—over a massive plate of barbecue in Austin, Texas. (This Tony can also tackle a formidable serving of meat. Just sayin'.) Roma has been with GM since 1993, but most of his stories are about the claptrap race cars he's owned. "I've spent too many holiday weekends underneath a car in the pits, trying to get it running for a SCCA club race," he tells me between bites. Most of the engineers who work on the V cars, it turns out, have humble racing backgrounds. "The guys who work on the V cars have to truly understand performance," Roma says. That level of understanding is actually quantifiable. To get on the V engineering team, you have to achieve a "Level 6" certification from GM, meaning you can only be tenths of a second off a pro driver's pace around a track.
Tony's one of the Level 6 guys. And the love of speed and precision guys like Roma bring to the table is the ATS-V's secret sauce. It's baked into the details. And so it is the next day, at Austin's Circuit of the Americas, that I all too easily pry him out of the pits and into the left seat of a manually equipped ATS-V coupe. As soon as his helmet goes on, Roma's body relaxes. He slides into the car like a man who has spent more hours in a bolstered seat than any Aeron chair. By the time we're up and over Turn 1 and into the esses, the Michelin Pilot Super Sports are warm and the throttle is buried. This man can drive.
Full Story:
2016 Cadillac ATS-V Review