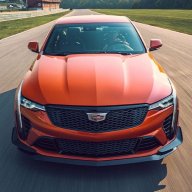 Administrator
Staff member
Joined

Nov 3, 2011
Messages

3,408
Location
V-Series Cadillac(s)?

Not Yet!
Mine has arrived! I picked up the car two days ago from the dealership. I asked them not to detail it at all, as I wanted to do it myself and I'm glad I did. Gave it a quick bath on Friday, then Saturday morning I clayed it, cleaned up the rims, and used some meguiar's 3 in 1 to polish it up. It's been a long few months, but I'm extremely pleased with the car.

I was unable to find a manual version to test drive, so I'd only driven the automatic when I placed my order. I'll be honest, I'm not used to how the manual feels in this coming from cars with a lot less horsepower and a much deeper clutch engagement point. I have no doubt I'll come to it, but I feel like I'm learning to drive again.

Overall, despite knowing exactly what I was getting, I am still pleasantly surprised with the car. I feel like that's worth repeating - I'd watched a dozen reviews, I'd driven the automatic, and I'm the one who checked every box on the order. But as soon as I drove THIS car, I realized I was still impressed and surprised with how good it is. The cabin feels light and airy, the touch points are of excellent quality, and the exhaust note... oh my, the exhaust note.

The salesman started cracking up when my response to "what do you plan to do with the car?" was "pick up the kids from school", but I'm gonna drive this thing. It deserves to be driven.

Below are a few pics of mine (I especially like that side profile shot), and I'll go ahead and include the timeline on mine in case its beneficial to everyone else who is impatiently awaiting.

ordered 01/04/22
allocated 1/13/22
TPW scheduled 02/07/22
actually built 3/08/22
bayed 3/09/22
paired 3/22/22
jack cooper to railyard 4/27/22, EDD provided of 5/27/22
delivered to Tulsa 5/05/22
Took possession 5/06/22
DELETED!
I mean...congrats!!!