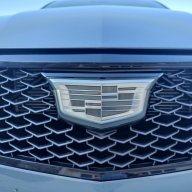 Joined

Mar 4, 2021
Messages

221
Location
V-Series Cadillac(s)?

2022 Cadillac CT4-V Blackwing
Hey guys,
I know I mentioned it before but I went ahead and made the plunge to get a custom Blackwing emblem Designed and CNC'd. To the tune of about $300 from start to finish.
as of now I had the proportions 6.75" x 1.5" to replace the spot where I debadged the CT4-V. I am Taking all the emblems off except for the Caddy logos and the BW emblem I am having built. It will be ceramic CC'd also.
3/16" thick, 1.5 x 6.75" contour-cut Billet Badges with < Black Wing > design, brushed carbon black and machined carbon black
Our current lead time is approximately 12-16 weeks from the date the order was paid and based on our volume of orders
.
Also I get 3 free design changes so I am sure Ill be soliciting thoughts. Just figured I would share.
Eric
Last edited: