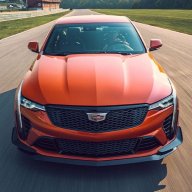 Administrator
Staff member
Joined

Nov 3, 2011
Messages

3,401
Location
V-Series Cadillac(s)?

Not Yet!
Konica Minolta Cadillac Wins Rolex 24 at Daytona
Whelen Engineering Cadillac second
2019-01-27
Cadillac Press Release

Cadillac has won the 57[SUP]th[/SUP] running of the Rolex 24 Hours at Daytona. The Konica Minolta Cadillac team soldiered through 24 hours of start-and-stop racing to give the Cadillac brand a Rolex 24 hat trick with their third win in as many years.

Full Story on the Cadillac V-Net's Home Page >>>