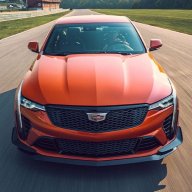 Administrator
Staff member
Joined

Nov 3, 2011
Messages

3,871
Location
V-Series Cadillac(s)?

Not Yet!
Cadillac ATS-V to Get 425-HP Twin-Turbo V-6
Rob Loszewski, Site Administrator
Cadillac V-Net
January 16, 2014
Now that the Cadillac ATS coupe has been officially unveiled at the North American International Auto Show earlier this week in Detroit, Motor Trend Magazine is reporting that the ATS-V will be powered by Cadillac's twin-turbo 3.6-liter V6 putting out approximately 425 hp. All that power will be put to the ground by a seven-speed manual gearbox option.
What's even more interesting is that they claim Cadillac has plans for an
ATS-V+
powered by a more powerful V8 engine. Is it possible that this V8 engine could be a de-tuned version of the new 625+ hp LT4 engine found under the 2015 Corvette Z06's hood?
Motor Trend is confident however that the Cadillac CTS-V will not get the Z06 Corvette's LT4 engine and will instead be powered by a new twin-turbo version of the Corvette's LT1 V8 engine.
Along with these new engines for Cadillac's road-rockets, a new seven-speed manual, eight-speed automatic and a dual-clutch transmission are all on the planning board.
It looks like Cadillac clearly plans to kick BMW squarely in the teeth!