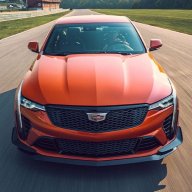 Administrator
Staff member
Joined

Nov 3, 2011
Messages

3,440
Location
V-Series Cadillac(s)?

Not Yet!
For those of you with 2022 Blackwing orders sitting in GM's Order Work Bench system at 1100 - please do not contact me or start new threads asking me to put your order numbers back in the tracking page here.
This has already been discussed here over the last several days in other threads - allocation for the 2022 Blackwings is finished. Dealers can no longer place a 2022 Blackwing order WITH allocation. Just because an order is entered and sitting in the system at 1100 - does not mean it's going to be built. Orders need to be paired with an allocation spot. If a dealer doesn't get any allocation - the orders will not advance.
Therefore, the orders sitting in the system at 1100 WILL NOT be built for the 2022 model year.
I don't care if your dealer is assuring you that your 2022 order at 1100 is going to get built - IT IS NOT.
If your dealer doesn't reach out to you regarding this, then you need to reach out to them, and ask them to re-place the order as a 2023 model - in which case, you will receive a new order number.
Orders that are sitting in the system at 1100 DO NOT just automatically transfer over to a 2023 order. They need to be re-entered into GM's Order Work Bench system where they will receive a new order number.
For a further understanding of how orders and allocation works, please read the article I wrote a while back regarding C8 Corvette orders. While it's a different car/platform, the concepts remain the same regardless if it's Chevrolet or Cadillac:
The Corvette Action Center has put together this detailed article to help clarify the process of placing an order for a new Corvette.
www.corvetteactioncenter.com
Last edited: