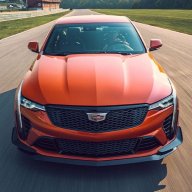 Administrator
Staff member
Joined

Nov 3, 2011
Messages

3,380
Location
V-Series Cadillac(s)?

Not Yet!
American beefcakes: Cadillac's new ATS-V and CTS-V
Kevin Hackett
The National
November 5, 2015
When you hear or read the name "Cadillac", what normally springs to mind? For me, it's huge 1950s cars with outrageous tail fins, lashings of chrome, whitewall tyres, bench seats and a boot big enough to fit the entire family inside if they start getting on the driver's nerves. What definitely doesn't immediately spring to my mind is motor racing or muscular road-going saloon cars with Ferrari-*baiting performance, but Cadillac would like a word in our collective ears to change that.
Hence the reason I'm at Yas Marina's Formula One circuit in Abu Dhabi, where I will be getting to explore the outer edges of the "performance envelopes" of Cadillac's latest mentalists: the ATS-V and the CTS-V – two new models (there's never been an ATS-V before now) that their maker is using to take the fight to BMW, Jaguar, AMG and the rest of the Euro establishment in the battle for tyre-shredding lunacy. It's as though these companies have vested interests in the rubber supply chain, such is the punishment the new breeds of super saloons dish out on their *Michelins, Pirellis, *Dunlops, et al.
These are not cars to appease anyone's enviro-conscience. They represent the apex of conspicuous consumption, because unlike impractical supercars that offer similar levels of firepower and performance, you can use these things every day, with three or more passengers on the work commute or family outings. Then, if you're so inclined, you can rip up the tarmac at the weekend on a racetrack – they really do, on paper at least, represent the best of both worlds.
For Cadillac to take what it considers to be a decent market share, it needs to offer realistic alternatives to BMW's M3, M4 and M5, Mercedes's C63 AMG and E63 AMG, Jaguar's XE S and XFR, as well as Audi's RS4 and RS6, and, new to the fold, Dodge's frankly insane *Charger Hellcat – tremendous machines, one and all. Unlike the American car industry's approach in times past, these new Caddies need to offer more than simple straight-line speed, because at this level of motoring, the chassis is as important as the thing that propels it. But, hey, we're at Yas, wearing a crash helmet (which usually signifies the fact that you can go as fast as you like), so my hopes are high that the ATS-V and CTS-V will be properly sorted weaponry.
The American brand is in the process of repositioning itself, freely admitting that, over the past three decades or so, it has lost most of the prestige image it used to be associated with. *Cadillac used to be held aloft as an iconic company that produces hugely desirable cars that the young, up-and-coming and fashionable set gravitated towards. Cadillac's star has almost faded into obscure irrelevance. Its task to thrust itself back into the limelight is daunting, to say the least.
These will help. Overall they look like different-sized versions of the same design, the ATS variant being more compact and available in two- or four-door body styles, while the CTS has gravitas aplenty, with a bad-boy stance and attitude that, while still subtle, is just enough to whisper: "Come on, you wuss. Come and have a go, if you think you're hard enough." I like a bit of danger when it comes to performance cars, and there's decent visual balance when it comes to both of these new *Cadillacs.
Full Story:
American beefcakes: Cadillac's new ATS-V and CTS-V | The National