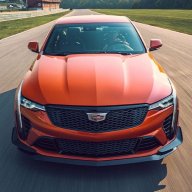 Administrator
Staff member
Joined

Nov 3, 2011
Messages

3,809
Location
V-Series Cadillac(s)?

Not Yet!
A little off-topic from our usual Blackwing banter, but I know a few of you have expressed interest in the upcoming 2023 Corvette Z06.
I was able to get a nice intimate view with one last night and this morning.
Let me just say, the sound is... an arousing experience of salivation! OMG...
The Corvette Action Center gets their first closeup view of the 2023 Corvette Z06 at MacMulkin Chevrolet of Nashua, New Hampshire.
www.corvetteactioncenter.com