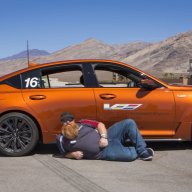 Joined

Jun 14, 2021
Messages

792
Location
V-Series Cadillac(s)?

2022 CT5-V Blackwing
I posted this on my FB several weeks ago but here was my time frame..

I also ordered a CT4-V BW on Aug 31 (I think) and it currently TPW 10/25 and 3400....

I ran the numbers for the time line of my

Cadillac

CT5-V Blackwing and I have to say that Cadillac did an awesome job during a crazy time period! The V-Team built an epic car that will go down in history!

I received my reservation on 02/01/21. (1 of 250) I received #43

Car was built on 07/19/21.

Car was delivered on 08/09/21.

Thats 190 days from reservation to delivery, and 22 days from build to delivery. I don't think thats to bad during this covid crap!

Thanks again

Cadillac

for an awesome car!
WARNING WARNING WARNING:
DO NOT USE TALL STEVE AS THE STANDARD
I REPEAT DO NOT USE TALL STEVE AS THE STANDARD.
USE
@MrChao
*this message is purely satirical... YMMV