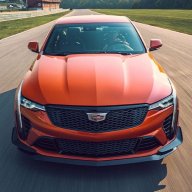 Administrator
Staff member
Joined

Nov 3, 2011
Messages

3,093
Location
V-Series Cadillac(s)?

Not Yet!
2016 Cadillac ATS-V Coupe
Finally armed with the power to match its chassis, Cadillac's coupe shines.
Apr 2015
By ERIC TINGWALL
Car and Driver Magazine
The eccentric tenor of Austin, Texas, goes so far beyond the stereotypes that it could pass for paro*dy. In the city's South Congress neighborhood, for example, you get your kale juice, fried chicken, and breakfast tacos not from a food truck, but from food Airstreams and food shipping containers. The local thrift shop shares a wall with American Apparel, and everybody pretends not to notice that the hipster counterculture is funded by Range Rover drivers quaffing $20 cocktails.
The off-kilter atmosphere is so pervasive here that it's normal. What is truly strange in Austin is brash, unashamed indulgence and capitalism without the pretense of keeping Austin weird. Like a $63,660 sports coupe from a brand so tragically unhip that it's relocating people to New York City with the hope that speeding taxis will splash them with trendiness and relevance.
If you place more stock in what's good than what's trending, though, you need to know about the 2016 Cadillac ATS-V, a 464-hp BMW challenger that finally captures what Cadillac has chased for 13 years with varying success. With the ATS-V coupe and sedan, Cadillac has mastered the complete package of performance, style, and driving bliss. To arrive at that conclusion, we pointed the ATS-V coupe into the heart of Texas Hill Country, 180 miles southwest of the state capital by way of Sabinal, population 1695, where we missed the annual Wild Hog Festival and Craft Fair by just one day. The billboard showing a grown man midflight as he's bucked from a hirsute swine was a reminder that the truly weird parts of Texas exist well outside of city limits.