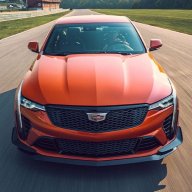 Administrator
Staff member
Joined

Nov 3, 2011
Messages

3,434
Location
V-Series Cadillac(s)?

Not Yet!
2016 Cadillac ATS-V: A Track-Ready Cadillac? You Bet!
By Costa Mouzouris
The Car Guide
April 26, 2015
Cadillac introduced its first high-performance V-series car in 2004, based on the 2003 CTS sedan. The CTS-V eventually became available in station wagon and coupe versions, but until now, however, the only other Cadillacs to have brandished the elusive "V" badge were the also-elusive XLR-V and STS-V.
That changes this year with the introduction of the 2016 ATS-V, in dealers now starting from $65,750 for the coupe and $68,055 for the sedan. Cadillac has really turned up the performance level on its latest V-car, and in a somewhat uncharacteristic move, has turned the focus heavily towards the racetrack.
To distinguish the V from the standard ATS there are several styling alterations, including a new fascia with two large grille openings. The hood is vented to allow the extra incoming cooling air to escape, and it is made of lightweight carbon fibre. An optional aero package adds a carbon-fibre front splitter and a slightly larger rear spoiler to balance out the added front downforce.
Full Story:
2016 Cadillac ATS-V: A Track-Ready Cadillac? You Bet! - Review - The Car Guide